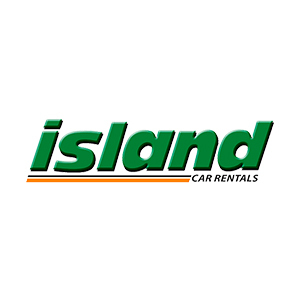 Island Car Rentals - Kingston & Montego Bay
Rent Your Car from Island Car Rentals!
Island Car Rentals is a wholly-owned Jamaican company serving visitors and locals, leisure and business clients every day of the year.
From an inauspicious start with 15 vehicles in April 1973, they are proud to have grown to a fleet of over 1,000 late-model vehicles which, to date, is the largest in the island. They are always updating the fleet and supply clients with a wide range of choices, including minivans, light commercial vehicles and small SUVs, as well as luxury sedans and SUVs.
Island has become an international award-winning company and we did this by earning the support and loyalty of a host of travel partners worldwide. By voting for us and supporting our nominations at the World Travel Awards (WTA), we have earned top honours from the WTA being named "Jamaica's Leading Car Rental Company" since 2011 and, since 2014, also earning the accolade as "The Caribbean's Leading Independent Car Rental Company
Island Car is a full service ground transportation company, offering not only car rental services but also catering to clients who do not want to drive themselves. They can take advantage of any of the options which include private transfers which are prompt pickups without undue delay, (using either a spacious sedan or 14 or 25-seater buses depending on the numbers in the group); day trips, again utilizing our fleet of 14 or 25-seater buses, and executive chauffeur service with luxury sedans.
Apart from their Head Office location at 17 Antigua Avenue in New Kingston (one of Kingston's main commercial centres) they have two other offices which are conveniently located in-terminal at the international airports each located in Kingston, the island's capital and in Montego Bay, a major tourist destination on the north coast.
With the overriding objective of providing quality service at uncompromising high standards, they are committed to ensuring each and every client that:
"ISLAND PEOPLE TAKE BETTER CARE OF YOU"
Promotional value expires on March 31, 2022.
This Gustazo does not include all taxes and fees.
This Gustazo is non-refundable upon purchase.
Upon redeeming your Gustazo, you will have to select an insurance coverage and a security deposit will be held from Island Car Rentals to cover any incidental charges that may occur. 
You MUST present a Major credit or debit card at Island Car Rentals to cover incidental charges. Cash is not accepted.
If using a debit card refunds will be made by way of company cheque or bank wire transfer, not cash.
Vehicle rental maximum of (7) seven days (1 week).
Additional rental days or additional hours are paid directly to Island car rentals.
You must call and make your reservation 48 hours before.
The vehicle received is a comparable car if not the exact car as in the pictures.
The rental rates do not include fuel charge. The only additional cost would be for any portion of fuel used from the full tank supplied with the vehicle. If the vehicle is returned full there will be no fuel charge.
Please present the Gustazo on your mobile phone or bring it printed.
This Gustazo cannot be transferred. The person whose name appears in the printed Gustazo must be the one who collects the vehicle (rentals).
Vehicle Rentals are valid for Jamaican residents ages (23 -75 years) only.
Must have a valid Jamaican Driver's License.
Only Jamaican Driver's License, Jamaican Passport or Voter ID accepted as identification.
You MUST present a Major credit card at Island Car Rentals to cover any incidental charges, deposits vary depending on the selection of vehicle.
Any damages to the vehicle will be the responsibility of the customer and will be charged accordingly.
Island Car Rentals have several coverage/waiver packages to limit or eliminate this liability.
Maximum 7 Gustazos per account.
Cannot be combined with other offers.
Subject to availability.
Any date changes will be subject to availability and may carry a change fee, payable directly to Island Car Rentals. All changes must be directed to Island Car Rentals 48 hours prior to pick up or you will lose your reservation including full payment. The new dates must fall within the validity period for this Gustazo.
Redemption Schedule:

7 Antigua Avenue, New Kingston (city office)

Monday through Saturday from 8:30 a.m. to 5:00 p.m.
Sunday from 8:30 a.m to 3:00 p.m.
Closed on Public Holidays

Kingston International Airport

Every day, including public holidays from 7:00 a.m. to 9.00 p.m.

Montego Bay International Airport

Every day, including public holidays from 7:00 a.m. to 9:00 p.m.

Limited Gustazos available. Valid while they last.
Gustazos.com's full Terms of Use and Privacy Policy apply to your purchase of this Gustazo.
You can call Gustazos' Customer Support at (876) 832-3344, Monday through Friday from 9:00 a.m. to 5:00 p.m.
Island Car Rentals
Phone: (876) 929-5875
Kibgston
JM
Redeem Locations
17 Antigua Avenue
Kingston
JM
Map It!
Kingston International Airport
Kingston
JM
Map It!
Montego Bay International Airport
Montego Bay
JM
Map It!