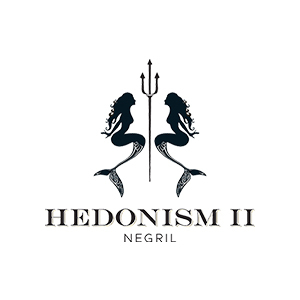 Hedonism II - Negril
A Complete Vacation Experience!
No matter what you call it, Hedonism II is the world's most iconic adult playground! An all-inclusive paradise where you can turn your fantasies into reality! Experience what you only read about in erotic novels and let loose! They are the preferred destination for resort hotel, bar and restaurant services and for club and social gatherings.
Be as mild or as wild as you like! People travel to Hedonism II from all corners of the world to live out their fantasies, to escape their inhibitions, to play. Life is too short. Do it now, before later becomes never.
They offer their guests world-class dining with a wide selection of local and international inspired cuisine.
Five fully stocked bars featuring premier top shelf brands and cocktails created specially by our experienced mixologists. Their 280 luxury rooms and suites awaken your spirit and indulge your senses.
Spend your days and nights swimming, playing, dancing and laughing, our resort activities are endless.
Nightly entertainment featuring sexy theme nights, cocktail lounges and piano bars, singers, musicians and dancers performing unique engaging routines in extravagant costumes.
Soothing and relaxing spa and beauty treatments (offered at additional) cost on property
They provide unique and memorable wedding experiences. Weddings are always complimentary and black tie is extremely optional.
Group events and meetings. They help plan and book programs and themed events custom tailored to your event.
Your Pleasure is their passion!

Gustazos stays always include all taxes and resort fees.
Please bring the printed Gustazo to redeem.
This Gustazo cannot be transferred. The person whose name appears in the printed Gustazo must be the one who checks-in at the hotel.
Valid for Jamaican residents only. Only Driver's License, Jamaican Passport or Voter ID accepted.
You must present a credit card at check-in to cover any incidental charges. Any damages to the hotel room, fixtures, and furnishings will be the responsibility of the customer and will be charged accordingly.
Your confirmation voucher must be presented at check-in.
Valid for a 2-night or 3-night stay with check-in on any day of the week from September 9 to December 25, 2020.
2 Gustazos per person, you may extend your stay up to 6-nights.
The Gustazo is valid for 2 adults or 3 Female adults only.
The Gustazo is valid for a double occupancy room.
Maximum room occupancy: 3 adults.
Cannot be combined with other offers.
This Gustazo includes:     

Food and beverages
Free Wi-Fi access
Free parking

Phone: 876-957-5200
Valid for a Garden View room with FREE room upgrade based according to availability.
Additional adults carry a charge of US$120, per person, per night and payable directly to the hotel at check-in. Maximum of 3 people per room. ONLY for Adults.
Cannot be combined with other offers.
Subject to availability.
Early Check-in 12:00 p.m. (Access Room at 3:00 p.m.) + Late Checkout at 2:00 p.m. (Leaving Room at 12:00 p.m.) based upon availability.
TO RESERVE: Once you click 'BUY', you'll see a reservations platform where you can choose the date of your arrival. After making the payment, you will receive an email confirmation of your reservation.
This Gustazo is non-refundable.
The hotel will not refund any cancelled reservations or no-shows. Gustazos® will not refund any cancelled reservations or no-shows.
Please choose your dates carefully before making the purchase
1 Free date Change. Any additional date changes will be subject to availability and to an additional US$60 fee, payable directly to the hotel. All changes must be requested 14 days prior to check-in or you will lose your reservation. The new dates must fall within the validity period for this Gustazo.
All date and name changes should be made directly with Gustazos Customer Care. If for any reason your reservation is not recognized by the hotel, please obtain the name of the reservations agent and email us at: service@gustazos.com Reservations over the phone will not be accepted.
Check the reservations calendar for availability.
Limited amount of Gustazos available. Valid while they last.
Gustazos.com's full Terms of Use and Privacy Policy apply to your purchase of this Gustazo.
You can call Gustazos' Customer Support at (876) 832-3344, Monday through Friday from 9:00 a.m. to 5:00 p.m.
Hedonism II
Phone: 876-957-5200
Negril
JM
Redeem Locations
P.O. Box 25
Negril
JM
Map It!