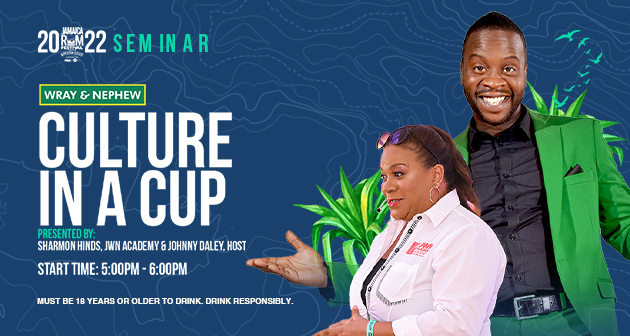 Jamaica Rum Festival Seminar - Montego Bay
Enjoy The Jamaica Rum Festival Seminar Experience Today!
J Wray & Nephew White Overproof Rum Culture in a Cup!
Presented By: Sharmon Hinds and Johnny Daley
Experience Culture in a Cup at the Wray Rum Jamaica Rum Festival Seminar! Prepare to stimulate your senses with fantastic drink recipes and techniques for an enhanced experience with Wray & Nephew White Overproof Rum. Learn new mixes to impress your friends and savour this flavour inspired journey with "The Official Spirit of Jamaica 60'.
Secure your seat to watch an electrifying presentation on the history of Wray & Nephew White Overproof Rum and the rum making process accompanied by a flair bartending and mixology session with Captain Kidd. You don't want to miss it!
For the fourth staging of the annual gastronomic event, Wray Rum seminar attendees are in for a special treat!
Along with your spot as part of the seminar, attendees will receive:
Your very own immersive Wray Rum Mixology Kit which has a bar spoon, jigger, and shaker to help you recreate your favourite cocktails at home.
Wray Rum glassware
A bottle of Wray Rum  
A recipe card with various cocktails
Arrive at the Culture in a Cup seminar as a novice and leave as a Wraytastic drink mixing pro. Remember to share your experiences with fellow Wray Rum lovers on their Instagram
@WrayRum
This Gustazo grants unique access to join in the Jamaica Rum Festival Seminar on Saturday, June 25, 2022
The promotional value expires June 25, 2022.
Seminar Ticket does not include entry to the festival.
2 Gustazos per account.
Please bring the printed Gustazo to redeem or present it on your mobile device.
Upon purchase you will receive your Gustazos Redemption Code to enter your Seminar on Festival Day.
Valid for your selected Jamaica Rum Festival Seminar.
Participants must be 18 years or older to drink alcohol, drink responsibly. ID required.
Taxes included.
No cash-back. No refunds.
No transfer of tickets from one seminar to the next.
Please be on time to redeem your seminar vouchers. If a seminar is missed or if persons arrive late, no refund will be issued.
Share the experience. You can buy several as gifts!
J Wray & Nephew White Overproof Rum Seminar - Seminar Tent 1 from 5:00 p.m. to 6:00 p.m.
Non-refundable upon purchase.
Cannot be combined with other offers.
Jamaica Rum Festival Seminar includes items to be used during the seminar and is included in the ticket purchase.
Redemption Schedule:

Redeem on location 1 hour before seminar time.
Phone: (876) 221-0035 / (876) 832-3344

Limited Gustazos available. Valid while they last.
Gustazos.com's full Terms of Use and Privacy Policy apply to your purchase of this Gustazo.
You can call Gustazos' Customer Support at (876) 832-3344, Monday through Friday from 9:00 a.m. to 5:00 p.m.
Jamaica Rum Festival
Phone: 876-926-9007-9
St. James
JM
Redeem Locations
St James
Montego Bay
JM
Map It!